The next SVBF/OKA webinar "COVID 19 Vaccination/ Immunization: Expert Recommendations and Debunking Common Myths" will be held on Sunday, February 6, 2022, from 11:30 AM to 1:00 PM. Please see the attached flyer for details. If you have any questions to the panelists, please send them in advance to sadanand.mankikar@gmail.com
COOK WITH CHEZ SIVA – DIABETES FRIENDLY RECIPES: SVBF in collaboration with OKA AND South Asian Diabetes Chapter will hold two online Cooking Demonstrations on March 27 and April 17, 2022. Chef Siva is the Founder and Executive Director of South Asian Diabetes Chapter and owner of CHEZ SIVA where she offers cooking training and demos. Details to follow.
TWO SVBF EVENTS SPECIALLY DESIGNATED FOR SENIOR'S WELLNESS:
1) Active Seniors – Active body and mind through the dance movements by Karthiha Partiban, Artistic Director and trained classical dancer from Kalakshetra, India. Fridays and Wednesdays 11 AM to 12 NOON in February, starting from 4th. To register and for additional details, please see the attached flyer.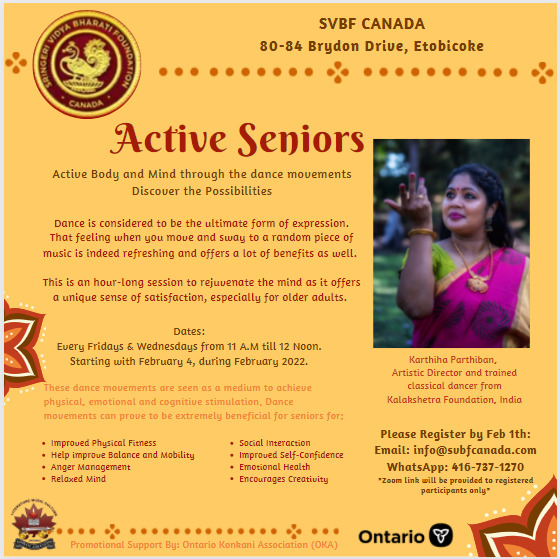 2) Music, Mindfulness and Intergenerational Approach by Smt. Sandhya Srivatsan, Gerontologist and Director of Ganavarshini School of Music. On February 2, 23, March 2, and 23, 7 PM to 8 PM. To register and for additional details, please see the attached flyer.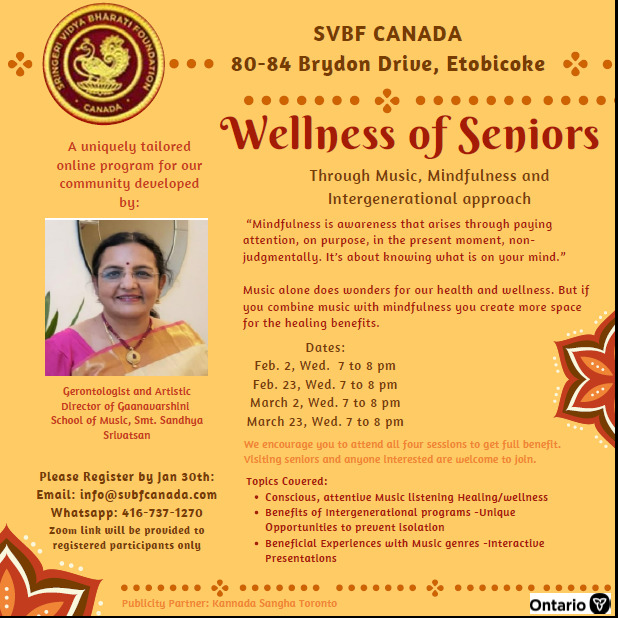 OTHER USEFUL INFORMATION
OKA EMERGENCY PREPAREDNESS PROGRAM: Estate, Will and Power of Attorney, and End of Life Planning are two major elements of this OKA Seniors Forum Program.
For preparing Wills and Powers of Attorney you may contact Marvin Talksy (905) 405-0199 ext. 257 or Mary Bojkovski (905) 405-0199 ext. 276 of Nanda & Associate Lawyers. For additional information or assistance, you may also contact Raghunath Kamath or Ashok Bhatt.
For End of Life Planning, one may contact Harjinder Bilku of Chapel Ridge Funeral Home at (905) 305-8128 or (647) 966-0093.
Additional information about OKA Seniors' Forum is posted on www.ontario-konkanis.com