There is a sweet secret I would like to share with my OKA family. Come every weekend our own Nandan Shanbhag puts on his chef's hat to deliver a homemade brunch for his family. If you are thinking of eggs, bacon, toast or waffles, kasle tu vichar karta. Instead, it is always a trip down memory lane with upma, niru dosa, mushty dosa. And this is just the start. Nadan's recipes have a special family linkage as they are from a cookbook published by his late mother, Geeta akka Shanbhag about the recipes written by his late grandmother Kaveribai Shanbhag affectionately known as Lilli mamamma to Nandan and Lilli akka to a huge joint family, relatives and friends in India and abroad
It has been more than 30 years since Nadan arrived in Saudi Arabia and with a bit more time on his hand began to develop his culinary skills. Home sick in the land of Sheiks and missed his home, because so many great memories are inextricably linked to food and family history.
Nandan's remarks on cooking:
"I have many loves and good eating, amchigelo, is right at the top. I get so much enjoyment from cooking, mindfulness and sharing that joy in the form of homemade food. It is not just cooking, it is spiritual. From the simplest of ingredients, you can produce a mouthwatering aroma and that is what makes for a satisfying meal. Also, given that our children are growing up in North America and have so much external influence there is always a tendency towards diluting your own culture, hence keeping that essential link to our roots is a sacred duty."
Roots of that kitchen wisdom stretches back to Lilli akka's cookbook bound by traditions, simplicity and locally sourced ingredients.
Lilly akka was born in Udupi district in a Katapadi village in a prominent Nayak family. A Nayak family with deep roots in ayurvedic medicine. He explains his vivid memories of his multiple visits in his childhood and youth to that ancestral house which has still stood the present times. Visiting that place one can feel that belongingness to the roots. That place embodied that energy or vibration and at the same time love and warmth. A great example of a large big joint family. This is the place where his grandmother grew up. The family's involvement in India's freedom struggle and being surrounded by that spirit perhaps have helped in shaping her personality as most caring, standing for righteousness, sharing, doing good to humanity as whole etc. which was evident from the life she lived. When her recipe book was published, she was just 82 years of age full of energy with an ambition to write a book on ayurvedic medicine, which unfortunately remained only as a wish. Lilli akka kept abreast with politics, cricket, movies, even self-taught herself to read the headlines of the english news papers
Fast forward, Lilli akka gets married into the Shanbhag family of Hegde which is a village in North Canara district of Karnataka state, that's where Nandan's beloved mother Geeta akka's  entry happens in this scene of our story. She decides to edit and publish this book to fulfill her mother's wish. It has her mother's original recipes not only from her upbringing in Katapadi but also through her stays in Hegde and travels around the whole country. Simply put, Konkani is a culinary culture as we understand it. This cookbook was published in Hegde in 1992. Talk of Hegde brings memories of my own ancestral home with mango, coconut and jackfruit bagayat. The book reveals the importance of food and community through healthy eating  though locally sourced ingredients.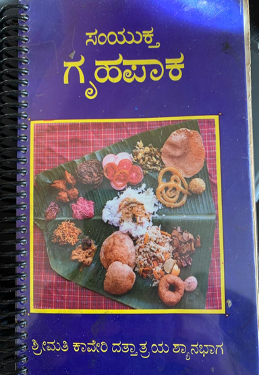 The book cover picture above was taken by Nadan's dad, an avid photographer, who had his own film developing technology. A picture is worth a thousand words and the cover is just skimming the surface of what is inside. If the cover makes your mouth water and brings the memories of ruchi jevan, wait till you see what is inside!
The book reveals the importance of food and community through a holistic perspective and takes you on a journey through the coastal regions of Karnataka (South Canara and North Canara (now named as Dakshina Kannada and Uttara Kannada districts) also testing waters of north indian cuisine. Although she was a strict vegetarian void of even root vegetables, Lilli akka perfected the skill to prepare mouthwatering non-veg dishes to feed her loving family who were strict non-vegetarians, jokes apart. Normally, cooking tasty food is a central theme of all cookbooks, but this book evolves the recipes through back yard grown vegetables, sustaining nature, spirituality and migratory patterns. Is it any wonder that our Gokarn Partagali Srimad Vidyadhiraja Teertha Swamiji officially released the first copy of the book with his divine blessings.
Konkani is a shared communal shrine to the shared communal history of the migration of Saraswat brahmins. To me these pages offer gratitude to the great chain of Konkani lives, nourishing ingredients and sustaining traditions delivered as a gift of memory to the generations to come.
Here is a bit of my chat with Nadan Shanbhag,
Madhav: What is the impact of this book on you?
Nandan: Huge! This is a sacred copy preserved in my book library. There is a saying isn't it, if one has to hide some secret cash in a household, the best place is the holy book Gita as we never open it to read it. There are exceptions however. In contrast, this is my "Geeta", (my mother who is behind this book with my grandmother), which I open from time to time to read & for me, in a way it is a spiritual connection, to think of those great souls This is a way I remember them, pay tributes and respects through the most simple but profound element – food.
Madhav: Tell me the significance of the title of this book?
Nandan: The book is in Kannada titled "Sanyukta Grihapaka" meaning "Combined or compiled recipe book". Since the book has compiled Konkani's typical breakfast, lunch/dinner and desserts recipes; typical traditional food and sweet dishes Konkani's prepare during different festivities. Not to mention it does not disappoint non-vegetarians, not even an inch. It mentions the subtle ingredients, spices in its measured quantities. Every time I prepare from this book, I wonder how mamma could articulate that exact measure which in effect makes that big difference in the outcome of the product.
Madhav: Would you like to share a recipe of a unique dish?
Nadan: Mushti Dosa:
It simply means " Fist measured dosa"
Ingredients:
4 "mushti" or measure rice
1 "mushti" Udid dal
1 "mushti" fresh grated coconut
1 "mushti" powa or puffed rice
2 spoons salt ( or to taste)
Method: soak the rice & udid for a few hours; before grinding it into a batter make a powder of powa when the grinder is dry (it is just my tip) and keep it aside. Grind the rice and udid into a thick consistency of dosa batter. In the grinding process add the fresh grated coconut and the powdered powa. Leave the batter to ferment (be mindful of cold climates we are in which can take longer time to ferment). Finally add salt to taste before making the dosa.
Tips: Some of the household tricks can be used such as covering the container with a towel or keeping the batter in an oven with the light on for creating the right ambient temperature. By the way, this is not in the book.
Serve with the accompaniment of your choice – my favorite is coconut chutney.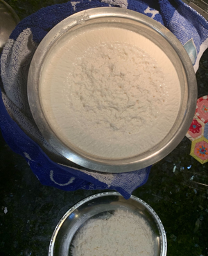 This dosa can be cooked on one side only- depends on the individual's liking. This is a thicker type of a dosa so not much spreading of the batter on the hot tava (indian frying pan) is required. Important thing is to close it with a lid while cooking.
About the author…
Madhav Shanbhag moved to GTA in 2017, after spending more than 40 years in Fredericton, New Brunswick. In retirement, Madhav enjoys the luxury of few hours of leisure and nature time…