UPCOMING EVENTS
COOK WITH CHEF SIVA – DIABETES FRIENDLY RECIPES: SVBF in collaboration with OKA AND South Asian Diabetes Chapter will hold two online Cooking Shows on March 27 and April 17, 2022. In these shows, you will follow along with Chef Siva cooking South Asian meals that are low GI and diabetes-friendly.

Siva Swaminathan is the Executive Chair and one a founding member of the South Asian Diabetes Chapter. After being in the IT field for 12 years, she pursued her dream of being a chef by attending the George Brown Culinary program, where she worked with many Canadian top chefs. She apprenticed in Germany and Switzerland for two years and now operates Chezsiva Cooking School, which offers a variety of cooking classes and services. She was diagnosed with type 1 diabetes 15 years ago and has been using her culinary skills to develop low GI, healthy meal plans for people with diabetes, celiac and heart disease. Siva has also been the driving force behind developing culturally relevant patient literature. Siva is now working on her next dream, which is authoring a cookbook.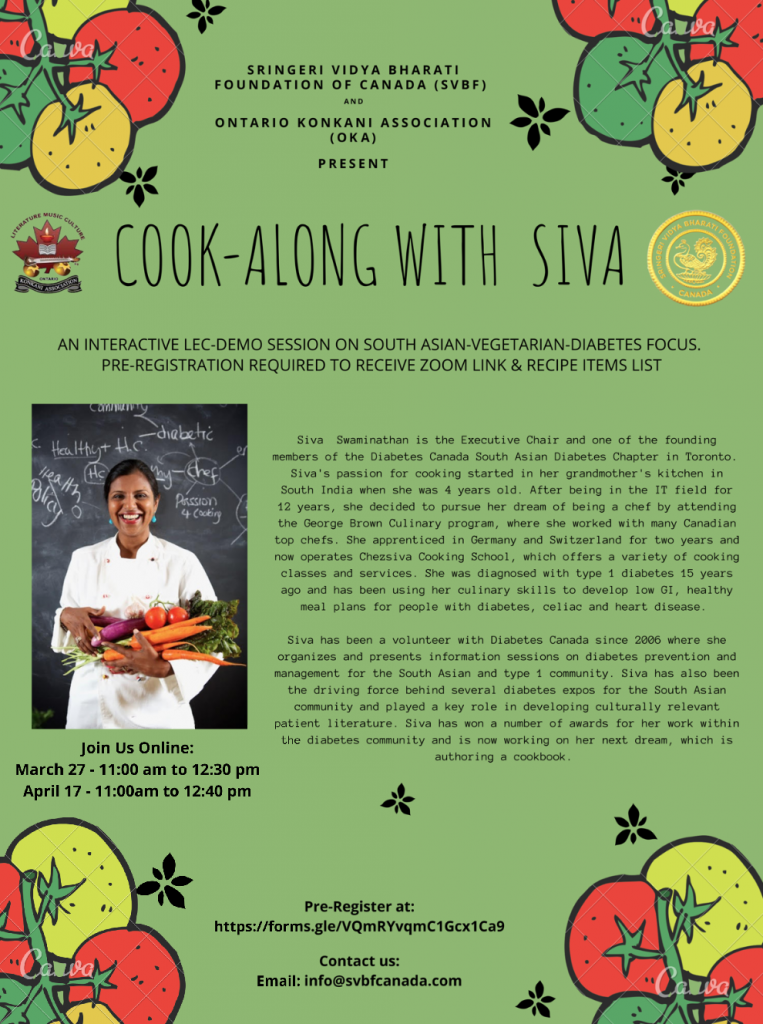 USEFUL INFORMATION
OKA EMERGENCY PREPAREDNESS PROGRAM: Estate, Will and Power of Attorney, and End of Life Planning are two major elements of this OKA Seniors Forum Program.
For preparing Wills and Powers of Attorney you may contact Marvin Talksy (905) 405-0199 ext. 257 or Mary Bojkovski (905) 405-0199 ext. 276 of Nanda & Associate Lawyers. For additional information or assistance, you may also contact Raghunath Kamath or Ashok Bhatt.
For End of Life Planning one may contact Harjinder Bilku of Chapel Ridge Funeral Home at (905) 305-8128 or (647) 966-0093.
Additional information about OKA Seniors' Forum is posted on www.ontario-konkanis.com
OTHER USEFUL INFORMATION
ONTARIO GUIDE TO PROGRAMS AND SERVICES FOR SENIORS: Please click on the following link for the latest upgraded guide.A guide to programs and services for seniors
LONG TERM HOME FINDER WEBSITE: The Ontario government has created an excellent website where you can find out how to choose a long-term care home, how to apply, and what happens when you move in. Please click HERE to visit this excellent website. Or copy and paste this link into your browser https://www.ontario.ca/page/long-term-care-ontario
WHAT EXECUTORS NEED TO KNOW AND WILL PREPARATION. At the ZOOM meeting on January 27th Dale Barrett of Barrett Tax Law gave THIS excellent presentation which provided a brief overview of wills, why they are essential, the role of the executor, what an executor needs to know, and what is involved in probate. This presentation can be viewed by clicking this link. https://us02web.zoom.us/rec/share/GK7H5XtozyOKhPpRWhRSZPHEwQjCfl1o-FLT5u5ns5k2QqTajhBILE9o_oTenq1F.PjQ1wau_9Wt4Y-pp
Passcode: 4$pBPb&3
(The above Other Useful Information was obtained from the C.A.R.P. Halton Chapter Mid February Newsletter)
SERVICES FOR SENIORS provided by Indus Community Services is helping seniors to stay in their homes longer than ever, and alleviating pressure on the hospital and long-term care centers. Health Services is also highly regarded for providing respite and support to caregivers. Through these programs, they provide client-centered care to frail and/or cognitively impaired individuals in a safe and encouraging environment.
Their services promote healthy aging, encourage an active lifestyle, and ensure that the privacy and dignity of all participants remain intact. Indus offers culturally and linguistically appropriate services to the entire community and has special expertise in South Asian Cultures.
The Health Services offered include:
Adult Day Services
Friendly Visiting
Caregiver Support Groups
Assisted Bathing Services
Foot Care Services
Seniors Wellness Groups
Indus Community Services is an accredited, not-for-profit community benefit organization that has been serving local communities for over 35 years. It provides services to newcomers, families, women, and seniors. They have offices in Brampton, Mississauga, and Oakville. Their Head Office is at 3038 Hurontario Street, Suite 206 Mississauga, ON L5B 3B9 Canada, Phone: 905-275-2369 Email: info@induscs.ca
The following organizations disseminate very useful information either through a regular news releases and/or seminars, webinars, and workshops:
Canada India Foundation www.canadaindiafoundation.com
C.A.R.P. Canadian Association of Retired People) www.carp.ca
Diabetes Canada www.diabetes.ca
Indus Community Services www.induscs.ca
UHNF (University Network Foundation) www.uhnfoumdatiom.ca
(Articles by and for seniors under this section are always welcome)