At the recently held 2022 Konkani Sammelan, Suvarna & Sadanand Mankikar were honored with the 'Outstanding Public Service' award in recognition of their over forty five years of service to the Konkani community in North America and abroad, contributions to blood banking with Canadian Blood services and consulting expertise to Institutions in Canada, Europe and India. Sadanand and Suvarna profusely thank Ashok & Amita Bhatt for nominating them for this award.
In January of this year Sadanand was nominated by the Ontario Konkani Association for the 'Ontario Volunteer Service award'. This award recognizes volunteers for providing committed and dedicated service to an organization ranging from five to 65 years of continuous service.
For Suvarna &Sadanand Mankikar, the call for community service in Canada came about forty-five years ago. On a fine Sunday morning in 1977, Sadanand got a call from a long-standing member of the Marathi Bhashik Mandal, Toronto telling him that he had volunteered Sadanand's name for the Mandal's Executive Committee. Since then, Suvarna & Sadanand have been dedicated and enthusiastic volunteers in various organizations involving not only Canadians of South Asian origin, but also the larger Canadian community in and around GTA, and the Gloucester/Ottawa areas. They have been closely associated with Ontario Konkani Association for over 30 years and have been leading the OKA Seniors Forum for the past several years.
After working for six years at the Hospital for Sick Children, Toronto as Virology Research Technologist, Sadanand joined Canadian Blood Services in 1979 and retired as Executive Director, Quality Assurance in 2006. He worked as a consultant in Canada, Europe and India and developed Quality Management Systems for Stem Cell Program, International Plasma Fractionation Plant and National Blood Program. Suvarna started her career at Canara Bank, Davangere, and after 38 years with the Ontario Government, she retired as Supervisor in Corporate Finance at the Ontario Securities Commission.
ONTARIO KONKANI ASSOCIATION (OKA) SINCE 1990
Member since 1990
Vice President (2003 – 2004)
President (2004 – 2005)
Established OKA Scholarship during Association's 15th Anniversary (2004)
OKA Scholarship Committee (2004-2008, 2011-2014)
Chair, KAO Vision 2020 (2013-2014)
OKA Senior's Forum (Since 2016)
OKA.SVBF Health Awareness Program (Since 2018)
ONTARIO KONKANI ASSOCIATION SENIOR'S FORUM (Since 2016)
Initiated the Forum to develop and implement socio-cultural programs with a focus on seniors and soon to be seniors in the community to help prepare for and adapt to the changes. It has developed teams of volunteers to provide support and assistance to the seniors.
PROJECTS DEVELOPED AND IMPLEMENTED:
Emergency Preparedness Program comprising of

Emergency Preparedness Kits

Estate Planning, Wills and Power of Attorney

Support during personal emergencies, including death

Information about services provided by Government and Non-Government Agencies

Interactive forum "OKA Aadhaar Chat"
Carpooling for seniors for attending OKA programs
INFORMATION SESSIONS, WORKSHOPS AND SEMINARS:
Five Brain Storming sessions and Focus Group Meetings
Two Seniors' Lunches and Get-Togethers
Seven seniors' Information Sessions covering Wills and Power of Attorney, End of Life Planning, Emergency Preparedness
Six Technical Support Workshops (assistance in handling emerging technology provided by youth in the OKA Community)
ONTARIO KONKANI ASSOCIATION AND SRINGERI VIDYA BHARATI FOUNDATION HEALTH AWARENESS PROGRAM (Since 2018)
Seminars/webinars in collaboration with Sringeri Vidya Bharati Foundation (SVBF), Canada India Foundation, South Asian Diabetes Chapter and other relevant organizations
Eleven seminars/webinars covering various health related topics including Diabetes, Heart, Stroke, Parkinson's Disease, Alzheimer's Disease, Dementia, Mental Health, Digestive System and COVID 19.
One webinar on Wills and Power of Attorney
One webinar on Seniors/ Retirement Community
One webinar on Assisted Living, Home Care and Long Term Care
Three Technical Support Workshops (conducted by youth)
OTHER RELATED SENIORS' ACTIVITIES (2017-2019)
Aging with Confidence: Ontario's Action Plan for Seniors February 2018
Member, Seniors' Community Housing Project, Indus Community Services 2018
Member, RetCom/Nirvana – a Seniors' Residence Project (2018-2019)
Scattering of Ashes/Asti Visarjan Project by Ontario Government – Town Hall Meeting and Brainstorming sessions 2017-2018
Ontario Liberal Caucus –Indian Friendship Group Meeting March 2017
OKA COMMUNICATION AND LEADERSHIP WORKSHOPS (2010 – 2015)
Developed and conducted five Annual Communication and Leadership Workshops comprising of practicing Communication and Leadership skills, Career Booths and presentations on mentoring, Preparing for University Life, Interview Skills etc.
NORTH AMERICAN KONKANI ASSOCIATION – NAKA (2004-2021)
Executive Vice President, NAKA Convention in Hamilton, Ontario, (2004-2006)
Director, NAKA Board of Directors (2006 – 2012)
White paper on NAKA Reorganization 2012
Vice President, NAKA Board of Directors (2012 – 2016)
Conducted Workshop "Now I am a Senior, What Next" at NAKA Convention, Atlanta, 2016
Coordinator, "Seniors' Corner" on NAKA website 2017-
Chair, NAKA Board of Director's Election Committee 2021
JUVENILE DIABETES RESEARCH FOUNDATION (2022)
Member, Curriculum Development Committee
SRINGERI VIDYA BHARATI FOUNDATION (SVBF) (SINCE 2009)
Volunteer since 2009
Member, Maha Kumbhabhishekam Organizing Committee 2010
Member, Maharudra Organizing Committee 2016
Coordinator, Health Awareness Program since 2018
CITY OF BURLINGTON CANADA DAY CELEBRATIONS COMMITTEE (2008-2010)
Volunteer, Organizing Committee
Master of Ceremonies on the West Stage
JOSEPH BRANT MEMORIAL HOSPITAL, BURLINGTON, ONTARIO (2006-2009)
Member, Board of Governors' Quality Assurance Committee
MARATHI BHASHIK MANDAL, OTTAWA (1995-1996)
CANADIAN KIDNEY FOUNDATION (1991 -1995)
Campaign Volunteer in Orleans, Ontario
GLOUCESTER, ONTARIO (1991-1992)
Organized and moderated Candidates Debate, Gloucester Civic Election 1991
Facilitated public consultation on structural reform to municipal government in Ottawa-Carleton (G. M. Kirby Commission) 1992
Member, Gloucester Leisure Recreation Board 1992
Community Policing Brainstorming Session 1992
CHAPEL HILL CANADA DAY CELEBRATIONS (1990-1992)
Founder 1990
Coordinator 1990-1992
CHAPEL HILL RESIDENT'S ASSOCIATION, ORLEANS, ONTARIO (1988-1992)
President, Chapel Hill Residents Association
Editor, CHRA Newsletter
Initiated Neighborhood Watch Program
Organized Community Health Fair
TOASTMASTERS INTERNATIONAL (1980-2006)
Held Club to District level Leadership positions in two different Districts
Conducted District Conferences, Speechcrafts, Youth Leadership Programs, Officer Training Sessions, Seminars, Workshops in two different Districts
Started a number of Clubs including a Gavel Club for Youth in two Districts
METRO INTERNATIONAL CARAVAN, TORONTO (1978-1982)
Member of the Organizing Committee that initiated and organized the New Delhi Pavilion at the Metro International Caravan – a multicultural nine-day festival with over 60 pavilions in and around GTA.
Award winning Entertainment Coordinator 1978
Award winning Pavilion Host 1979
Chairman 1980-1982
INDIAN IMMIGRANT AID SERVICES (1977-1982)
Volunteer
Planning Committee, of the first "Indians in Canada" Conference
Member of IIAS Board to select author of Report on concerns of the South Asian Canadian Community regarding their place in the Canadian Mosaic.
Member of IIAS Race Relations Committee that presented a report to Attorney General, Government of Ontario.
Member of IIAS Race Relations Committee that presented a report to Toronto Police Commissioner.
FEDERATION OF INDO-CANADIAN ORGANIZATIONS, TORONTO (1977 -1978)
Founding Member
Vice President
Chair, Education and Social Services Committee
MARATHI BHASHIK MANDAL, TORONTO (1977-2011)
Secretary 1976 -1977
President 1978 -1979
Member, MBM Think Tank Group 2011
Member, MBM Think Tank Core Group 2011
For animal lovers, this place is great to see Alpacas of different hues and colors strutting their stuff. The Shed Chetwyn farm is located at 500 Closson Rd, Hillier, Ontario. There are a few parking spots and I found the parking sign amusing. It read" For Alpaca Lovers only". Only a few yards further on this road is the Prince Edward County Lavender Farm. The best time to visit is late June through July. Our visit in August was a bit too late to see the colorful lavender flowers. Other sites in the vicinity are the Trent Severn Waterway and the Laundry's farm market.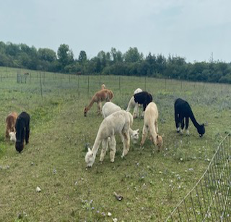 Tyendinaga Caves and Caverns
Ontario's Oldest Natural Cavern, Tyendinaga Cavern and caves is a private network of natural caves and is thought to be the oldest such in Ontario. It is approximately 150 feet long and 45 feet deep. While you won't see Stalactites and stalagmites, this cave is solid rocks with narrow passages and several levels. Located at 2623 Harmony Road, Belleville this place is worth visiting during summer when you feel like getting out of your city.