UPCOMING EVENTS
COOK WITH CHEF SIVA Session 2.– DIABETES FRIENDLY RECIPES: SVBF in collaboration with OKA, South Asian Diabetes Chapter, and ChezSiva Cooking School will hold an online Lecture-Demo on April 17, 2022, from 11:00 AM to 12:30 PM (EST). In this show, you may follow along with Chef Siva cooking South Asian meals that are low GI and diabetes-friendly. Siva will also talk about Diabetes Friendly Cooking and answer your questions.
Siva Swaminathan is the Executive Chair and one a founding member of the South Asian Diabetes Chapter.  After being in the IT field for 12 years, she pursued her dream of being a chef by attending the George Brown Culinary program, where she worked with many Canadian top chefs. She apprenticed in Germany and Switzerland for two years and now operates Chezsiva Cooking School, which offers a variety of cooking classes and services. She was diagnosed with type 1 diabetes 15 years ago and has been using her culinary skills to develop low GI, healthy meal plans for people with diabetes, celiac and heart disease.  Siva has also been the driving force behind developing culturally relevant patient literature. Siva is now working on her next dream, which is authoring a cookbook.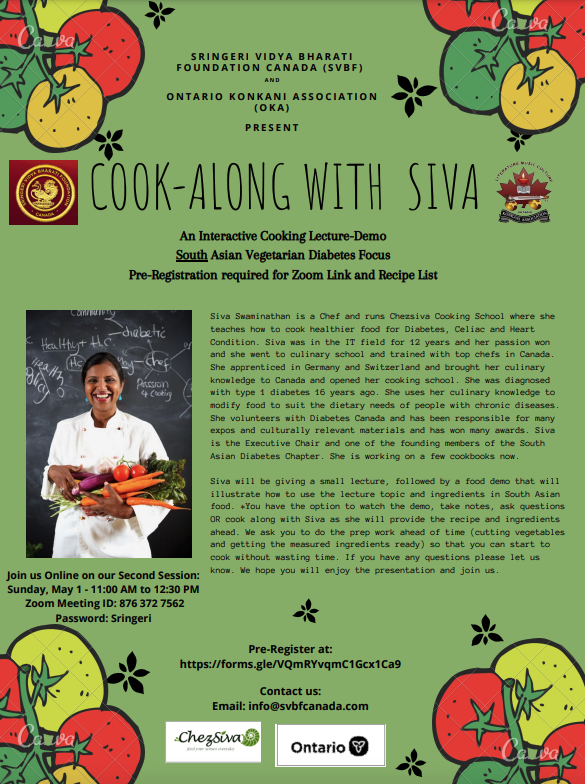 DIABETES – INFORMATION SESSION WITH THE EXPERTS: OKA and SVBF in collaboration with the South Asian Diabetes Chapter will be holding this information session on Sunday, May 29 2022 from 11 AM to 1:00 PM (EST). Details to follow.
USEFUL INFORMATION
OKA EMERGENCY PREPAREDNESS PROGRAM: Estate, Will and Power of Attorney, and End of Life Planning are two major elements of this OKA Seniors Forum Program.
For preparing Wills and Powers of Attorney you may contact Marvin Talksy (905) 405-0199 ext. 257 or Mary Bojkovski (905) 405-0199 ext. 276 of Nanda & Associate Lawyers. For additional information or assistance, you may also contact Raghunath Kamath or Ashok Bhatt.
For End of Life Planning one may contact Harjinder Bilku of Chapel Ridge Funeral Home at (905) 305-8128 or (647) 966-0093.
Additional information about OKA Seniors' Forum is posted on www.ontario-konkanis.com
OTHER USEFUL INFORMATION
ONTARIO GUIDE TO PROGRAMS AND SERVICES FOR SENIORS: Please click on the following link for the latest upgraded guide. A guide to programs and services for seniors
The following organizations disseminate very useful information either through a regular news releases and/or seminars, webinars, and workshops:
Canada India Foundation www.canadaindiafoundation.com
C.A.R.P. Canadian Association of Retired People) www.carp.ca
Diabetes Canada www.diabetes.ca
Indus Community Services www.induscs.ca
UHNF (University Network Foundation) www.uhnfoumdatiom.ca
(Articles by and for seniors under this section are always welcome)